Materials from the Sakamaki/Hawley Collection date from the 1400s to the 1960s and are about the Ryukyus and Okinawa. Hamilton Library houses these materials in a rare book cage, and they include books with western and Japanese traditional binding, maps, scrolls, wood-block prints, and hand-written manuscripts.
Many of them were recently scanned using our large-format scanner, and the Sakamaki/Hawley Collection's digital archives is now online, according to the following email from Japan Studies Librarian Tokiko Bazzell: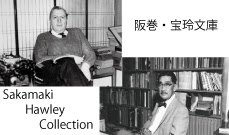 The University of Hawaii at Manoa Library and the University of the Ryukyus Library are pleased to announce the availability of the digital archives site for the Sakamaki/Hawley Collection. Over hundred items of 218 digitized titles are now online at the University of the Ryukyus Library Ryukyu/Okinawa Special Collections Digital Archives. In addition to content summaries & explanations in English & Japanese, special features such as a glass view function, modern language translations, and text reprints of the original language will be added at a later date. Please stay tuned for the rest of the digitized titles to be online early 2015.
List of the titles of the Sakamaki/Hawley Collection online
The University of the Ryukyus Special Collections Archives
The University of Hawaii at Manoa Library's Sakamaki/Hawley Collection